Ad blocker interference detected!
Wikia is a free-to-use site that makes money from advertising. We have a modified experience for viewers using ad blockers

Wikia is not accessible if you've made further modifications. Remove the custom ad blocker rule(s) and the page will load as expected.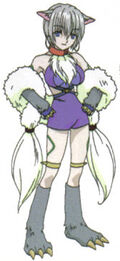 Werewolves (人狼族, Jinrō-zoku) are an elite class in The World; they were not present in SIGN or the Games, being added to the system sometime between the Twilight Incident and Legend of the Twilight. A hidden class only available through the "Class Change" system to Knuckle Masters who obtain a certain item, the Werewolf class allows its user to transform from their original class into a wolf form, and vice versa. The only known user of this class is Ouka.