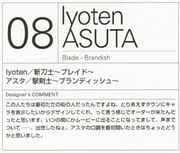 In GU TheWorld Asta's name is spelled Asuta in Romanji... shouldn't we switch her name to that?
--CRtwenty 01:11, 13 July 2006 (UTC)

Actually in The World it's spelled "Asta". In issue 5 at least. I don't have a scanner right now, hopefully you have that one too. It's also spelled "Asta" in the English credits of the insert for First Login, which totals 2 to 1. Is it spelled out anywhere else? We could just tally them and decide based on numbers... "Asuta" isn't a Japanese name though, so my money's on "Asta". - Kuukai2
Just call me Kiba
In the cut scene in volume one when Haseo is talking to Sakaki you can see Asta and Iyoten in the background talking to a beast character, Yet it could just be making a joke about Sakaki talking about mistaken Identity.
Ad blocker interference detected!
Wikia is a free-to-use site that makes money from advertising. We have a modified experience for viewers using ad blockers

Wikia is not accessible if you've made further modifications. Remove the custom ad blocker rule(s) and the page will load as expected.