We cannot allow irregularities such as Vagrant AIs to enter the system!

To meet .hack//Wiki's quality standards, this article requires general cleanup by formatting or adding more information. Because of this, the information on this page may not be factual. Please discuss this issue on the talk page
The Spring of Myst is a special function found in the field of an area.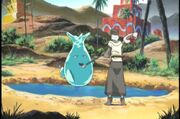 A PC drops either a weapon or armor in the spring and a spring demon (either the blue Monsieur or the orange Grandpa) appears. The demon asks if the player dropped one of the following:
Neither
Silver Axe
Golden Axe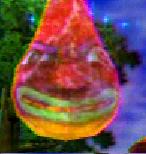 If either of the last two choices are picked, the corresponding weapon is given. If Neither is picked, then the dropped item will be downgraded, upgraded, or returned "as-is" to the user.
If the dropped item is too high a level or is classified as a Rare Item, the demon will return the weapon and compensate by also giving both a Silver Axe and Golden Axe. If the item is at a proper level, the item will be upgraded or downgraded depending on weather.
Sunny Areas
Edit
Weapons: Upgrade +2
Armor: Downgrade -1
Cloudy Areas
Edit
Weapons: Upgrade +1
Armor: Downgrade -1
Rainy Areas
Edit
Weapons: Downgrade -1
Armor: Upgrade +2
Delta Server
Edit
Lvl. 1-4
Lvl. 5-14
Theta Server
Edit
Lvl. 15-24
Lvl. 25-30*
Lambda Server
Edit
Sigma Server
Edit
Omega Server
Edit
The Spring of Myst cannot be re-used in an area until the area no longer appears in the Warp History menu of the Chaos Gate. Story area springs may not be re-used at all.
The Spring of Myst is a direct parallel to the Aesop fable "Mercury and the Woodman", which depicts a woodman (axe-wielding lumberjack) whose axe falls into a lake and performs a test of honesty with the god Mercury (aka Hermes) as a test of honesty. [1]
References Edit
↑ Aesop. "Mercury and the Woodman" from Aesop's Fables. http://www.aesopfables.com/cgi/aesop1.cgi?sel&MercuryandtheWoodman
Ad blocker interference detected!
Wikia is a free-to-use site that makes money from advertising. We have a modified experience for viewers using ad blockers

Wikia is not accessible if you've made further modifications. Remove the custom ad blocker rule(s) and the page will load as expected.