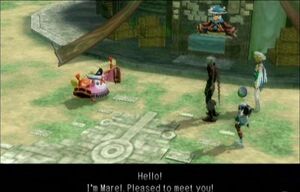 Marel is a young Vital Vista who lives in Mac Anu. She enjoys mushroom hunting, but after her favorite cave is overrun with monsters she hires Haseo to clear it out. Later one of her friends is attacked by a vicious bird monster named Scalvenger. So she once again hires Haseo to hunt it down.
Ad blocker interference detected!
Wikia is a free-to-use site that makes money from advertising. We have a modified experience for viewers using ad blockers

Wikia is not accessible if you've made further modifications. Remove the custom ad blocker rule(s) and the page will load as expected.