We are not twiddling our thumbs, I assure you.

The information in this article comes from a work in progress or a work that has not yet been released in English. As a result, some names may be subject to change, and the article will require regular updates as more information becomes available. In addition, it may also require general cleanup. Please discuss this issue on the talk page
Guilty Dragon: The Sin Dragon and the Eight Curses (ギルティドラゴン 罪竜と八つの呪い) is a free Online RPG for iOS and Android devices. Officially billed as "A Dothack Concept" and copyrighted under the .hack Conglomerate production label. It is set in a version of The World called The World: Armed Conflict.
Guilty Dragon shut down its services on March 23, 2016.
Characters
Edit
Adventure
Edit
Italian Cuisine Sisters
Edit
Eight Reindeer Legion
Edit
Caterpillar
Edit
Research People
Edit
Poison Honey
Edit
UnHappyChoice
Edit
Unit Event <Tentative>
Edit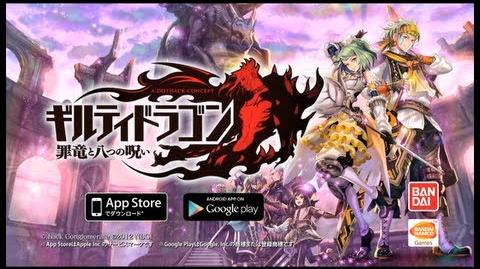 External Links
Edit
Ad blocker interference detected!
Wikia is a free-to-use site that makes money from advertising. We have a modified experience for viewers using ad blockers

Wikia is not accessible if you've made further modifications. Remove the custom ad blocker rule(s) and the page will load as expected.